Sea-Treck Geodesic Domes
&
Garlic Ranch
CLICK HERE FOR THE GEODESIC SHIP PAGE

CLICK HERE FOR THE MAIN DOME PAGE
Dave
Ph: 865-376-2161
mailto:SeaTreckGeodesic@aol.com
CLICK ON PHOTO'S FOR A LARGER VIEW
This 39' Dome was built in 1983 in Kingston, TN. It is still in excellent shape with the orginal roof after 18 years.Presently undergoing interior remodeling, I have open house the last Sunday of each month. You can get a reservation and map by e-mailing me at SeaTreckGeodesic@aol.com.
Located 40 miles West off I-40 from the Sun Sphere at the Knoxville 1982 Worlds Fair site, We have a Coast to Coast Semi Tractor lined up ready to deliver a kit to your location. I have also built many conventional homes and do blockwork and concrete additions.I have designed several domes for customers and can custom engineer all aspects of your dream home.
From duplex apartments to remodeling Sea-Treck can custom build to your specifications. 25 years in the construction business and specializing in electrical and mechanical contracting, the experience shows when the low cost is compared to other contractors.
The Geodesic Domes are simply triangular roof panels that are pre assembled and bolt together on site to make the dome roof. The method of overlaping the ends and using screw fasteners allow maximum strength and cannot be surpassed for earthquake and storm resistance. They are covered with osb just like a normal home roof and then shingled after assembly.See the main dome page for more details.The triangles & panels below go to a 20' Condo Kit.
Renowned for their resistance to the elements and obviously the choice for efficiency, the Geodesic Dome provides a home and shelter that bolts together in a matter of hours not months. Easily covered with a Styrofoam wrap, the structure can be dried in 8 hours from the start. Not only inexpensive, but the most hurricane and earthquake resistant structure known to man.
The interior can be finished out as lavishly as you desire. Easily heated or cooled, the dome gives you an architectural experience unknown in other structures

ORDER FORM >
8-1/2 x 11"
Order the Book "Building Geodesic Domes"
- Includes triangle angles & chordfactors to
determine lengths for any size dome
12" Paper Model Instructions
overlap sequence drawings and formulas for correction factors
and base foundation layouts
"Unknown secrets of solid triangle dome building"
3 Frequency dome generated from an icosahedron.
11 PAGES WITH 7 DRAWINGS & SHOP WORKSHEET
Send $12.00 Cash,Check or Money Order Too:
Sea-Treck Geodesics
160 Bream Lane
Kingston,TN 37763
Even a 20' dome can provide fast and comfortable living. At less than $5000.00 to complete the "Condo Series" offers one of the least expensive ways of confronting the elements. Not only efficient but also a beautiful accent to your property.
Elephant Garlic
I also raise "Elephant Garlic" Allium Ampeloprasium the main ingrediant for a long and Healthy life. The garlic dates back to ancient times when it was grown in Asia. Said to be one of the ways the first Kings of the Earth became rich and began to rule. I have some for immediate shipment- New harvest in July. Sold in 5 lb. boxes at $5.00 per lb. + $5.00 shipping.I can also ship in 25 lb. crates for Restaurants & Farmer's Markets. Please e-mail for a quote. You can grate it in salads, use in soup steaks and sauces and then plant the rest in the fall when the weather turns cold. Multiplies x 5 each year.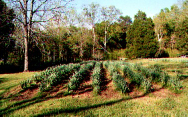 "Elephant Garlic" ORDER FORM >
Many people grow the plants in ornamental flower gardens for their unique foilage and flower accent. Simply plant in late fall and the plants grow all winter forming a purple flower and long stem in early spring.Uproot in late summer and re-plant 5 more bulbs in the fall for an ever increasing bulb harvest.