South East has Kits,Plans & Books + A-Frames!
You can now get the unknown builders secrets of overlayed strut solid triangle geodesic domes in this booklet"Building Geodesic Domes"! Includes overlap correction formula,shop worksheet,angles,chord factors,paper model instructions,foundation methods,interpolated radius formula for 3/8 or 5/8 sphere foundation, shop procedure and much more.You won't find this information anywhere else on Earth! Hundreds of copies sold. You can design and build domes with this booklet. 14pp-13 Drawings $12.00 ea.
Click Photo To Mail Order
I now have a Dome Kits Brochure that includes a front view, a floorplan & a complete price chart for each model of dome kits offered in 8', 12', 19.5', 24', 35', 38.5' & 49'. Good reference material! 7 Pages With Drawings $5.00 ea.
48' - Dome in Texas - 5/8's Sphere Being Built from South East Domes Plans - They are the Best!! These Plans were only $212.00
David Martin
Owner of South East Domes
Ph: 865-717-1068
My Dome & Office in Tennessee
"House of the Future" replica from the 1982 World's Fair in Knoxville, TN.
This is a 38.5' Dome on 4' Base Walls on a concrete slab. It has a geothermal heat pump, 3 bedrooms, a solarium, a high ceiling great room & 2 bathrooms.
Click on Photos

Detailed Blueprints!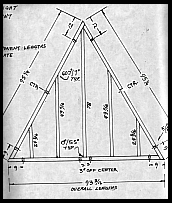 These Hand drawn blueprints make it simple to build a dome using a radial arm saw & table saw. You won't find a deal like this anywhere else! They include strut lengths already converted to ruler measurements. Saw settings for end cuts also included. Base walls, window details,foundation layout ,floor framing, basement wall joining method,anchoring,strapping & much more.I will also do custom designing for the framework from your drawings for $450.00/ set. Prices vary according to the complexity so click on the size dome plan you want to see what all is included. Many copies sold !
More Detail Examples
| Click Here for All Plans Selections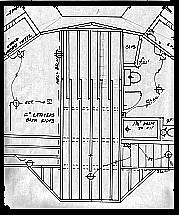 This detail shows the upstairs floor framework for a custom cantilevered balcony, bedroom & bath. Note plumbing & electrical rough in locations & wire sizes are shown.
A typical slab and block foundation detail with base wall bolts running into concrete foundation. These drawings are naturally reduced for web site purposes.
| Kits | Plans | Prices | Roofing | Order
| 8' Kit | 12' Kit | 19.5' Kit| 24'Condo Kit | 35' Kit | 38.5' Kit | 49' Kit |

Click on Photos