South East has Kits,Plans & Books + A-Frames
You can now get the unknown builders secrets of overlayed strut solid triangle geodesic domes in this booklet"Building Geodesic Domes"! Includes overlap correction formula,shop worksheet,angles,chord factors,paper model instructions,foundation methods,interpolated radius formula for 3/8 or 5/8 sphere foundation, shop procedure and much more.You won't find this information anywhere else on Earth! Hundreds of copies sold. You can design and build domes with this booklet. 14pp-13 Drawings $12.00 ea.
I now have a Dome Kits Brochure that includes a front view, a floorplan & a complete price chart for each model of dome kits offered in 8', 12', 19.5', 24', 35', 38.5' . Good reference material! 7 Pages With Drawings $5.00 ea.
Click Photo To Mail Order
Finished Product! A $200,000.00 Home in Texas - This Home recently withstood the winds of Katrina! The owner called me before he cut down his trees and evacuated the area. He called me back when he got home from it all. His message: : "Trailers are blown apart everywhere. Houses are blown of their foundations! The worse has happened - I have lost 3 shingles off the dome!" Whew scary! A true success story - proving the fact that South East Domes are the best!
48' - Dome in Texas - 5/8's Sphere Being Built from South East Domes Plans - They are These Plans were only $212.00
David Martin
Owner of South East Domes
Ph: 865-717-1068
My Dome & Office in Tennessee

Detailed Blueprints!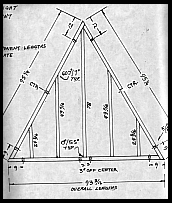 These Hand drawn blueprints make it simple to build a dome using a radial arm saw & table saw. You won't find a deal like this anywhere else! They include strut lengths already converted to ruler measurements. Saw settings for end cuts also included. Base walls, window details,foundation layout ,floor framing, basement wall joining method,anchoring,strapping & much more.I will also do custom designing for the framework from your drawings for $450.00/ set. Prices vary according to the complexity so click on the size dome plan you want to see what all is included. Many copies sold !
More Detail Examples
| Click Here for All Plans Selections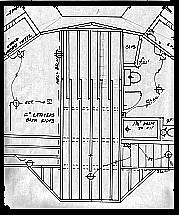 This detail shows the upstairs floor framework for a custom cantilevered balcony, bedroom & bath. Note plumbing & electrical rough in locations & wire sizes are shown.
A typical slab and block foundation detail with base wall bolts running into concrete foundation. These drawings are naturally reduced for web site purposes.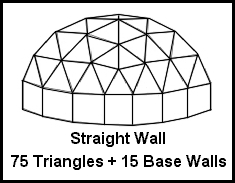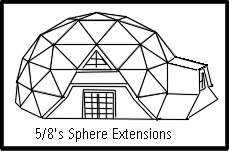 TacoDome.com
| Kits | Plans | Prices | Roofing | Order
| 8' Kit | 12' Kit | 19.5' Kit| 24'Condo Kit | 35' Kit | 38.5' Kit | 49' Kit |

Click on Photos



UnderGround Dome - Concrete Only!

If A-Frames interest you try the booklet "Building A-Frame Homes". A South East Domes exclusive Fast Bolt Truss design that allows you to bolt together the lower truss components, floor top areas, then bolt on top truss components - without using scaffolding! Includes a 16 x 36 floorplan, a 24 x 48 floorplan, hurricane strapping & anchoring, block post & beam & full basement details, interior straight wall beam design, mathmatical determination of diagonal layout, safety tips & much more! 11pp - 15 Drawings $12.00 ea.
16x30 A-Frame or SingleWide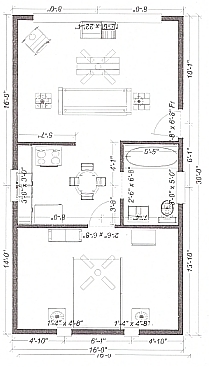 Here is a plan that is a perfect rental, lake house or hideout. It is very inexpensive to build and the small size makes an affordable owner built plan.It has no upstairs but has 8' ceilings in the kitchen and bathroom. If you like cozy areas in the bedroom and in the great room living area you will not be dissapointed. It is designed for mass production for lakeside multiple cabins but is excellent for a one time getaway as well. This plan can also be built as a fast bolt square unit. Please specify. Plans: A-Frame $235.00 Single Wide $235.00 A-Frame Kit $3900.00 Includes all exterior framing - no end a-frame walls - bolts, hardware 2' overhang trusses and ridge beam and gutter plates - also straight walls and interior component material plus lintels for spans.
I now have complete plans for the 28 x 48 A - Frame . It was engineered for Dayton Tennessee. It is a 3 Bedroom - 2 Bath unit that is approximately 1700 sq. ft. The plans are $350.00 and can be mail ordered at SouthEast Domes- 160 Bream Lane - Kingston TN, 37763 Additional sets are $35.00 - This plan worked out perfect and we plan on building several units here on 60 acres overlooking the Tennessee River on our Farm. They will rent or time share for $2000/ wk - with a pontoon boat. A really nice vacation!

Fast Bolt A-frame Kit Built in Berkley Springs - West Virginia - 20' x 24'- "It went up in 2 Days!" The Kit Price was only $1960.00 + Shipping!
16x36 A-Frame Plans!
Here are previews of the plans for the 16x36 that includes 7 - 18 x 24 sheets outlaying a block column and beam {or Basement} plan one bedroom super insulated A-Frame. The front room is a 16x16 A-Frame Room with features including shutting off the great room for maximum efficiency. The upstairs 16x16 straight wall bedroom can be fitted with a second bath. Downstairs work areas are intended for a small but roomy way of setting up a vacation home or a livable full ammenity home for a small investment.Carpenters will like the full detail and ease of production in this plan. $212.00
Preview Examples of Plans